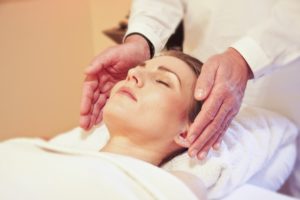 Reiki (ray-key) is a Japanese healing art for relaxation and stress reduction. The word Rei means universal. It is the higher knowledge and spiritual consciousness. The word Ki means the same as Chi in Chinese, or Prana in Sanskrit. It is life energy. Reiki is spiritually guided life energy.
Reiki is hands on technique, a gentle touch. The client remains clothed throughout the session. A session may last 60-90 minutes depending on client needs.
The technique can support the body to promote healing and release blocked energy. The Reiki energy works with the negative thoughts and feelings that are blocking one's natural flow of Ki. Reiki promotes healing on a physical, emotional, and spiritual level.
This natural and holistic approach to healing restores and maintains your vitality by releasing blocked energy and balancing the chakras.
During pregnancy, Reiki can be a gentle yet powerful treatment. It is non-invasive and may help with tiredness, mood changes, stress, emotional imbalances, and natural pain management. It is calming for both the birthing person and baby.
Your Reiki session will take place in the comfort of your own home.
Reiki attunement is available as well, and we'd be happy to tell you more.
The Reiki Ideals
Just for today, do not anger.
Just for today, do not worry.
Just for today, work hard.
Just for today, be kind to every living thing.
Just for today, be grateful.
Reiki for Pregnancy
Average rating:
0 reviews