Drip, Drip, Drip… nope, that is not the kitchen sink dripping.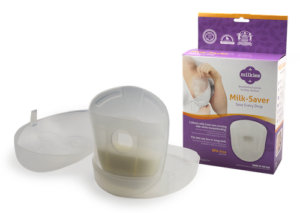 You chose to feed your baby breast milk. Whether it is from bottle or breast, you find your breasts leak a lot of milk. Several of my clients were noticing they were losing a lot of breast milk while they breastfed or pumped. They went looking for a way to save the milk and stop leaking everywhere. What they discovered worked best for them was a product called Milkies and they love using them.
I had the opportunity to interview Helen Anderson, the inventor of Milkies, a breast milk saving device that is worn when breastfeeding or pumping. Helen is a mom, an entrepreneur, and also works with Fairhaven Health as Medical Advisor and Chief Lactation Officer. She is a joy to chat with and her heart is focused on helping new mothers.
Here are some highlights from that interview:
What inspired you to develop Milkies and when were they first developed?
About 3 weeks after my second child was born, in June 2007, I started to think I could create a product to catch my leaking milk. I had noticed how much I was leaking when nursing, and I had a single sided breast pump so I would balance a bottle to catch the milk that would leak from the other breast. I would leak two ounces while pumping, and realized that's how much I was leaking while nursing. There was a time with my first child when my supply was low, and I worried it would be a problem with my second. I wanted to save every drop because my milk was precious. Low milk supply was a big anxiety for me.
Then I started talking to other moms [Helen worked in the ER as a nurse and a lot of other nurses around her were having babies as well]. We talked about all the mess our breasts were making, which was something we hadn't expected or prepared for.
What are they made from and how have they changed over time?
Milkies is made with a silicone-like material which comes from Michigan. The Milkies is constructed in Hillsboro, Oregon. I have received a lot of feedback from moms since people started using the product in 2008. We have tried to make exactly what moms were asking for: softer, with a lid, and a little bit smaller.
Why would a breastfeeding mother want to use Milkies?
Milkies maximize the amount of milk that can be saved and stored. You collect and save every drop of milk. Many moms have this need and desire to save as much milk as we can, especially moms going back to work. Moms can collect and store while pumping and breastfeeding. In addition, I talk to moms about using breast compression while Milkies are in place, so they can collect a higher volume of milk that is fattier.
How long can they be worn?
Good question! We recommend wearing Milkies during a breastfeeding or pumping session, but there is no medical reason why a mom couldn't wear it longer. Milkies holds more than 2 oz of milk and can be worn in public. However, they're not designed to be worn all day. Consumers should follow the guidelines for breast milk storage. If it's against your body it'll be warmer than putting it on the counter. We [Milkies] say it's pretty safe at the 4 hour mark. [Here is a link to Medela's storage guidelines, other storage guidelines can be found online.]
How can Milkies be cleaned and sanitized?
Though they can be boiled, they don't need to be sanitized all the time… think about our nipples: they're not sanitized. Clean them well: they can go in the top rack of the dishwasher, or rinse and air dry on a clean towel.
Are there other products that are related to Milkies that you would like to tell us about?
Rachel's Remedy: Uses moist heat to facilitate let down so mom's can really empty their breasts. This has a waterproof layer so your clothes won't get wet. There are flax seeds inside and you warm it in the microwave. It's big enough to cover the entire breast (rather than just a portion).
Milkies Milk Trays: Allows you to freeze milk in 1 oz servings. They really save on waste of breast milk. Store the milk [after it's been frozen in the tray] in ziploc bags and use what you need. It's made of flexible plastic, mom's love them. These have been featured on The Today Show and in books.
What motivates you?
I see opportunities to improve the lives of moms through education and products that can help solve problems for them. I think that if we are in a position to make those changes for other moms, because we've been there, that's an obligation that we have to each other.
Please see Part 2 of our interview for advice Helen has for working mothers and entrepreneurs.
You can reach Helen at:
Facebook: https://www.facebook.com/FairhavenHealth.BellyToBreast/
Twitter: @bellytobreast
Blog: http://www.mymilkies.com/
Email: helen@fairhavenhealth.com
Milkies can be purchased at www.mymilkies.com, in hospital lactation stores, in specialty stores, on Amazon.com, and soon at Babies R Us. They typically cost around $27 for one.